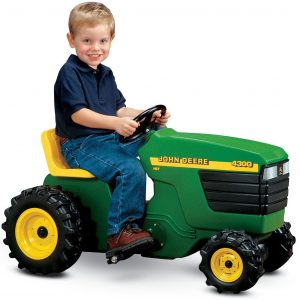 Whether you are looking for the perfect gift or finding a special toy for the little one in your life, we have a wide selection of toys for all tastes. With educational and fun options for sale, come by to see what we have for your next birthday, holiday or for any occasion that pops into your head.
John Deere
Every country kid loves a John Deere tractor. The Kakabeka Depot has the largest selection of John Deere toys in Thunder Bay and Northwestern Ontario. Put a smile on the apprentice farmer, rancher, or builder with the high quality playthings in stock. From ride on tractors to models, we have many ideas that your child will love.
Melissa and Doug
Melissa and Doug are a great option for kid inspired play. These hands on educational toys are made of high quality and safe materials for children of every age. Melissa and Doug toys are created to inspire creativity, spark imagination and keep your child's attention for hours.
Breyer
Breyer toys are stunning recreations of our equine friends designed by artists with details that can be found on the real animals. The Kakabeka Depot has a fantastic selection of horses, ponies, foals, and accessories in all breeds and colours. These horse sculptures begin as a cast of steel and copper and end with a special resin that captures the life of your favourite horse in all their fabulous detail, colour and feel. The final product is as close to the real horse that you can have a completely house-trained companion.
Christmas Toyland
Christmas Toyland is open from November 1 to December 24. Be Santa's helper by coming by to get all you need for under the tree and in their stockings. Delight in the wonder of the season by exploring the toys available at the Kakabeka Depot and join us for an unforgettable Winter Wonderland experience.